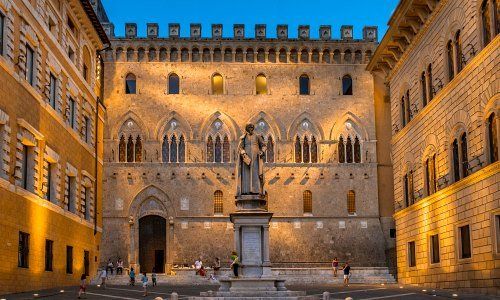 UBS missed out on millions in fees when long-time client Monte dei Paschi passed over the Swiss bank for a rival rescue bid from U.S.-based J.P. Morgan – a major setback for the Swiss bank's financial institutions group?
It is UBS' showcase: the lucrative business of advising the world's largest financial firms on their mergers-and-acquisitions strategy under star banker Andrea Orcel.
M&A is particularly attractive under CEO Sergio Ermotti's three-year retooling of the bank: unlike vast parts of fixed income, it requires very capital.
Alumnus John Cryan
Financial Institutions Group, or FIG, at UBS has its roots in a strong European franchise, due in part to the Swiss bank's 1995 acquisition of SG Warburg, a venerable London merchant bank best known for one of the first hostile takeovers in the U.K.'s history, British Aluminum.
One of Warburg's most famous alumni is John Cryan, who joined this institution in London in 1987. He worked as a FIG banker largely behind the scenes until he was catapulted to finance chief of UBS – the bank's third in two years – in September 2008.
Monte dei Paschi Plan
The unassuming Cryan is still widely credited in Swiss financial and political circles for his acumen a Swiss government-led rescue one month later, ultimately hugely profitable for Switzerland.
Cryan's former FIG colleagues at UBS had been trying – unsuccessfully – to find a buyer for Monte dei Paschi until roughly six weeks ago, along with Citigroup.
The Swiss bank's relationship with Monte dei Paschi, a 544-year-old firm which is the world's oldest existing bank, is particularly strong.
Mulone, Greco, Orcel
Investment banking head Orcel has coordinated previous capital-raising for the bank, and has been hands-on in the most recent rescue efforts, according to several people familiar with UBS' work for the Italian bank.
Riccardo Mulone, a UBS' head of Italy who worked on the initial public offering of Ferrari with Ermotti personally, and Emilio Greco, a managing director, worked on the Monte dei Paschi plan alongside Orcel.
UBS Loses Out
To little avail, it ultimately emerged: U.S. investment bank J.P. Morgan and Mediobanca stole a march on the Swiss bank with a plan which includes a 5 billion euro cap hike – larger than what UBS was thought to have been proposing – and 6 billion euro in bridge financing.
J.P. Morgan will also end up holding considerable Monte dei Paschi debt if it can't sell it on to investors, which may have deterred UBS.
For the Swiss bank, which is within striking distance of 2019 capital rules, the prospect of absorbing bad loans on its balance sheet if it couldn't sell them to investors will have led to heated discussions at Zurich headquarters.
Italian Political Elite
Not that the Swiss bank gave up on Monte dei Paschi without a fight: UBS enlisted Corrado Passera, a former former Italian Industry Minister and ex-head of Intesa Sanpaolo, Italy's biggest retail bank.
J.P. Morgan ultimately had more in hand: besides a very public show of support for the bank and Italy overall from CEO Jamie Dimon, it also has strong ties on the ground through EMEA chairman Vittorio Grilli, who is a former Italian finance minister.
As a result, UBS will miss out on several million in investment banking fees that J.P. Morgan is expected to rake in for putting together the rescue package.
Embarrassing Setback?
It is an embarrassing setback for the lucrative triangle where UBS' investment bank is thought to be strongest: Italy, equities and business for and with financial institutions. Or is it?
A look at recent data suggests otherwise. The Swiss bank has been part of several recent landmark deals outside of Europe: it was lead advisor to Florida-based EverBank on the bank's $2.5 billion sale disclosed earlier this month.
UBS also advised on the Middle East's largest deal ever, First Gulf Bank's $29 billion merger with National Bank of Abu Dhabi. Orcel's team also advised the London Stock Exchange on its 27 billion euro merger with Deutsche Boerse, which is run by former UBS investment banking head Carsten Kengeter.
Prominent Deals
In Asia, UBS was a buy-side advisor to China Cinda on its $8.8 billion acquisition of Nanyang Commercial Bank, as well as to China Life on its purchase of a China Guangfa Bank stake from Citigroup and IBM Credit.
The Monte dei Paschi setback aside, UBS currently ranks second is FIG deal transactions worldwide according to data provider Dealogic. The bank has shimmied up the FIG mergers league table to second place globally, behind J.P. Morgan.
Beefing Up M&A
Orcel has been quietly hiring bankers for the so-called FIG franchise, many of them like EMEA FIG head Javier Oficialdegui from his former employer, Bank of America/Merrill Lynch.
Besides Orcel's star value, the UBS franchise also boasts illustrious M&A names like Piero Novelli, who is chairman of global M&A for the Swiss bank.
Stephen Carter joined UBS last October as head of FIG in the U.K. after a short stint at Credit Suisse. The bank also in June hired U.S. investment bank Joseph Herschberger as head of asset management banking, also from Credit Suisse.
Compare my salary
Feeling Underpaid? Benchmark your salary by job title, company and location. Find out where you stand in minutes.
Share with us
Do you have any market intelligence to share with finews.asia – email us on info@finews.asia – All communication is completely confidential and strictly anonymous.