Details

Wednesday, 21 September 2016 07:01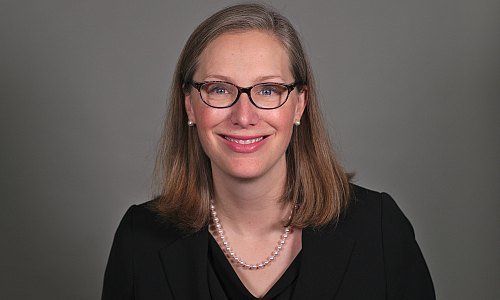 Citigroup's private bank in Switzerland is asking clients to voluntarily waive banking secrecy – and getting surprising responses, the U.S. bank's country head tells finews.ch in her first interview since taking over.
The U.S. bank's Swiss unit is one of Switzerland's largest foreign banks and, with at least $25 million needed to get in the door, it's also one of the most exclusive.
Kristine Braden took over the reins of Citi's Swiss private bank and its investment bank 18 months ago. Now, Citi is asking its wealthy banking clients to voluntarily forgo secrecy.
Privacy vs. Mobility
«We're offering our clients the opportunity to consent to cross-border data disclosure because we think we can serve their needs globally from Switzerland,» Braden told finews.ch.
«While we care deeply about data protection, at the end of the day we want to be able to serve our global client's needs, wherever our client is operating.»
Asking clients to consent to forgo secrecy just two years ago would have been unthinkable: Switzerland was still clinging to secrecy until October 2014, when it caved to international pressure and agreed to begin sharing data in 2018.
«No Big Deal»
Unsurprisingly, Braden raised eyebrows among competitors, even if clients were «overwhelmingly positive» about the move.
«Clients come to Switzerland because of the security of Switzerland, the privacy of Switzerland, the products and services, historical ties – they're here for a lot of reasons, but for us it was never about secrecy anyway so the client's willingness to consent to cross-border data disclosure wasn't a big deal.»
Citi's Swiss private bank earned almost 18 million Swiss francs last year, which pales in comparison to the $17.2 billion the bank made overall and almost $9.4 billion in the institutional unit where private banking is housed.
No Clients Defected
In Switzerland, Citi is among the larger and more prominent foreign-owned private banks, alongside HSBC.
Braden said Citi hasn't lost any clients by asking them to waive their right to secrecy, which marks a first in the Swiss market.
«Many asked me, 'how many clients did you lose?' I said, 'we haven't lost any.' They're here because they're using Citibank as a global bank. I think if you're just a Swiss bank it might be different.»
No U.S. Crackdown
New York-based Citi has only recently emerged from the aftermath of the financial crisis with a fortified balance sheet. Its Swiss private bank hasn't been part of the recent crackdown by U.S. justice officials, thanks to a fortuitous decision years ago to pass on U.S. clients.
«For us with the Americans it was fine, we didn't have American clients,» Braden says.
The unit didn't participate in a Swiss government-brokered scheme for banks in Switzerland to come clean on their tax-dodging U.S. clients and pay fines.
$25 Million Minimum
The idea seeks to tap into Citi's target group: the richest of the ultra-rich, or those with at least $25 million in assets.
The strategy is being mirrored by rivals like J.P. Morgan, which recently doubled the assets required to command private banking service $10 million.
This type of client typically has far-flung business and personal interests with offspring enjoying elite U.S. or U.K. education, and no longer see themselves as strictly Swiss, British or Qatari clients, for example.
«There's a cadre of truly global people today that probably has never existed in history: educated abroad, multilingual, with business interests around the world, it's a very cool world we're currently living in,» Braden says.
Secrecy Shift
The idea is to make a client's high-flying life easier by traveling to meet them in, say, London or Saudi Arabia, instead of tying them to Switzerland, and still work off the same account information.
«When a client has consented to cross-border data disclosure, the banker can work with them on a product that has their live, real-time data. Before, we could show them what was outside of Switzerland, but not inside.»
It is a subtle distinction but it speaks volumes about the shift in Switzerland's private banking industry, which grew prosperous – and, according to some, complacent and lazy – on clients stowing untaxed money here.
Funding Pullback?
This is slowly shifting after secrecy was abandoned, leaving the once-flourishing industry bank's little choice but to slim down and find new ways to make themselves useful to clients – or face extinction.
Citi may have come out of the secrecy debate unscathed, but in an country full of banks with longstanding ties to the rich, a U.S. bank may not be the first choice with clients.
«For someone who comes to Switzerland, they're likely to already have a UBS or Credit Suisse account. We'd like to be their international banking partner in Switzerland, so we might be their second or third account,» she says.
U.S. banks also face pressure on another front: funding for growth and expansion abroad has become far more restrictive since the financial crisis.
Iraq as Part of Network
Investment banking is another major part of Citi's Swiss unit overseen by Braden, as is the unglamorous business of treasury and trade services for big corporate clients.
«We've actually been increasing our footprint. I love to talk about growth of Iraqi business, for example. It's a difficult location but our clients are there and they want to do business with a qualified international bank.»
Citi's international operations are known for being everywhere – it is present in 101 countries outside the U.S. – and Braden says the American bank is there «through thick and thin.»
«Citi doesn't shy away from supporting its international network. It is who we are, the global network is our muscle.» In some exotic cases like Kazakhstan, Citi is the last international bank with a local presence after its rivals pull out, she says.
Tapping Exporters
«We've had a relationship with large Swiss clients for over 100 years. Any time they open a new country, or close, or change, we hope to be right beside them. And it's competitive, they run requests for proposals to make sure that we're pricing them properly,» according to Braden.
The strategy fits for a country that is home to major exporters like drug companies Roche and Novartis, food and beverage giant Nestle as well as major machinery and other industrial exporters.
It is unclear how much of Citi's Swiss profits are driven by these activities: the bank reports profits in Switzerland from private banking only – not for its investment bank, markets and securities services, and treasury activities.
WEB'S BEST
Former Goldman's Partner in Boutique Venture
Hong Kong and Singapore in Push for Fee Transparency
More
PHOTO GALLERIES
finews.asia Networking Event
stars China Symposium 2016
Compare my salary
Feeling Underpaid? Benchmark your salary by job title, company and location. Find out where you stand in minutes.
Share with us
Do you have any market intelligence to share with finews.asia – email us on info@finews.asia – All communication is completely confidential and strictly anonymous.