Details

Friday, 5 August 2016 21:45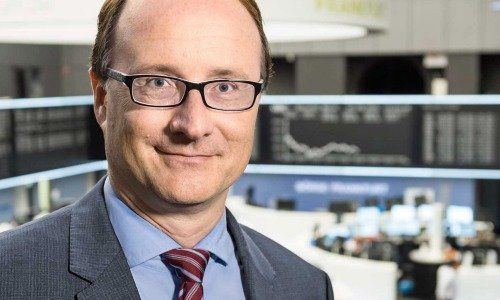 Even if politicians rarely follow up on their election promises to the full, an election victory of Donald Trump would likely send stock markets tumbling, Marco Bargel argues in an exclusive essay for finews.first.
---
finews.first is a forum for renowned authors specialized on economic and financial topics. The texts are published in both German and English. The contributions appear in cooperation with Pictet, the Geneva-based private bank. The publishers of finews.ch are responsible for the selection.
---
Now it's official: Hillary Clinton of the Democrats will face Donald Trump as the candidate of the Republican Party in the U.S. presidential elections in early November.
The chances that Trump will win the elections aren't to be underestimated. Clinton for a long time enjoyed a lead over Trump in the surveys. Not only has it gotten ever narrower, at present the real estate mogul actually has more than just made up ground.
«The voice of common man»
In the most recent survey in the «Los Angeles Times» at the end of July he has taken the lead with 47 percent to 40,4 percent. What would the reaction on Wall Street look like if Trump wins?
The property mogul during the primaries caught the attention with his tough talking and at times badly insulted his Republican rivals. His guiding principle is «America first», and he likes to present himself as the «voice of common man».
In his view, the U.S. in general and its citizens in particular are being put at a disadvantage in many instances. This must be readjusted. For instance, trade agreements such as Nafta with Canada and Mexico or TPP ought to be renegotiated.
«Dynamite for the stock market»
Even agreements made through the World Trade Organization (WTO) need to be reevaluated. This point in Trump's program alone is sheer dynamite for the stock exchange.
The prospect of having someone moving into the White House who would probably act against free trade ought to rattle many investors. Starting on Wall Street, an election victory by Trump will cause at least temporarily substantial drops in equity prices.
«Uncertainty is poison for markets»
The potential reintroduction of trade barriers would weigh on the development of sales and profits of internationally active companies. Company directors would likely put back planned investments for the time being. The world economy would suffer as a consequence.
The worry alone that Trump might follow up his tough talking with action would send equity markets tanking across the globe. Even if everybody knows that things aren't eaten as hotly as they are being cooked: uncertainty is poison for markets.
---
Marco Bargel, 50, graduated in Economics at the University in Freiburg, Germany. Before joining Postbank in 2004 as chief economist, he worked in a similar capacity for Depfa Deutsche Pfandbriefbank in Frankfurt.
---
Previous contributions: Rudi Bogni, Adriano B. Lucatelli, Peter Kurer, Oliver Berger, Rolf Banz, Dieter Ruloff, Samuel Gerber, Werner Vogt, Walter Wittmann, Albert Steck, Alfred Mettler, Peter Hody, Robert Holzach, Thorsten Polleit, Craig Murray, David Zollinger, Arthur Bolliger, Beat Kappeler, Chris Rowe, Stefan Gerlach, Marc Lussy, Samuel Gerber, Nuno Fernandes, Thomas Fedier, Claude Baumann, Beat Wittmann, Richard Egger, Maurice Pedergnana, Didier Saint-George and Dieter Ruloff.

Compare my salary
Feeling Underpaid? Benchmark your salary by job title, company and location. Find out where you stand in minutes.
Share with us
Do you have any market intelligence to share with finews.asia – email us on info@finews.asia – All communication is completely confidential and strictly anonymous.